About the company
Basic information about the company
The DOTEC company, Inc. has been operating in the field of property management and rental property since 28.11. 1995, when the company registered in the companies register which is led by the Regional court in Brno.
The entire business activities of the company are focused on providing services in the area of office and operating spaces rental and also related service for the tenants located at the address 1 Traťová street, 619 00 Brno. This site was managed by successive steps to build a successful and established business and administrative center with a high level of service and superior quality office space.
Location of area
The area of the DOTEC business center, Inc. is located in a calm and safe area in Brno - Bohunice / H. Heršpice, near to the highway ramp D1 (EXIT 194), from where it is possible to reach the road and highway network headed to Prague, Bratislava, Ostrava, Wien and other. Accessibility to the center of Brno is very good by tram (about 10 min. with direct tram connection), and also by vehicle (about 4 min. through the streets Vídeňská and Heršpická, and other).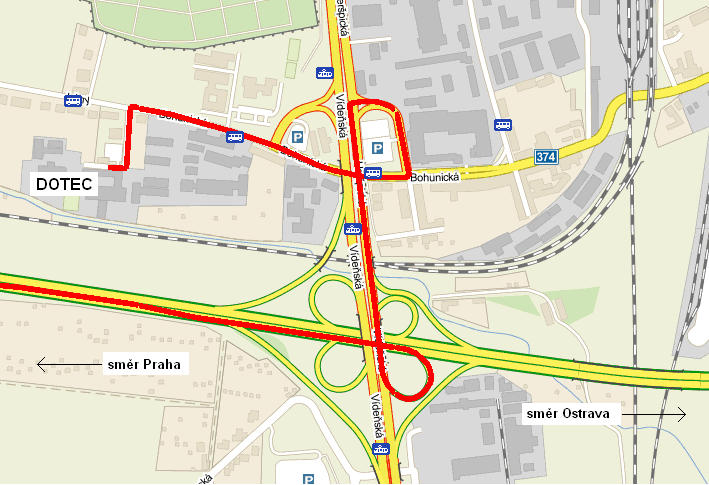 Specification of area
The business center is composed of the complex of buildings that are connected, exterior stores and paved spaces. There is an adequatly balanced surface of sustained green and paved spaces.
The whole object has been refitted after a full reconstruction and the entire installed equipment and distribution are new.
There are several types of parking areas inside of business center DOTEC, Inc. and in it's vicinity (carried, with parking barrier, guarded and not guarded).
Catering is provided by the restaurant in area of DOTEC, a.s. which is open from 8 a.m. until 3:30 p.m. The menu of the restaurant contains the usual assortment of breakfasts, lunches and dinners, followed by menu of minute steaks. Other part of the assortment is formed by drinks, delicacies, assorted sweets, pastry and other.